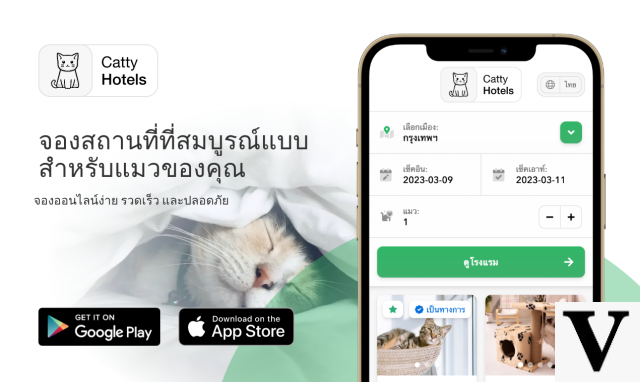 Address: 32/199, Manthana Village Bangna-Wongwaen, Bangkaeo BangPhli Samutprakan 10540, Thailand

Phone: +66 098-585-1208
Opening hours: 24 hours a day
Are you going on a trip and don't know who to leave your kitten with? Animals suffer if they are alone at home for several days, no matter how much food and water you give them. Besides, your friends are probably tired of having to adopt your cat every time you go on holiday, but don't worry because we bring you the definitive solution: cat hotels: โรงแรมแมว!
Find the best hotels for your cat 
Catty Hotels is a platform where you can search and book hotels for cats and that brings together a wide range of accommodation and services for these precious animals. Some of their proposals are cat shelters, cat houses, professional cat sitters, cat hotel rooms, among others.
Their cat hotels are comfortable, safe and very loving. Through their website you can easily find and book a room for your cat, to make sure they are cared for by the best hands, while you enjoy your holiday in peace and quiet. Your pets will thank you, because you'll be giving them the ultimate luxury while you can't be with them.
Catty Hotels has specialised so that your booking can be very easy and intuitive, without you having to spend long periods of time searching the internet to find the best hotel. The platform offers luxurious and affordable cat hotels, with all the services that these little felines will need during their stay.
FAQ's
We have answered some of the most frequently asked questions from Catty Hotels users. We hope they will help you with your decision.
Can I leave my cat with its own food?
It is normal for cats to be used to their own food, so yes, you can bring your cat with its own food, as long as it is in good condition. If you prefer, Catty Hotels has good quality food to feed your pet.
Can I book a specific room?
There are several types of rooms and each of them has specific characteristics and prices. You will be able to make a specific reservation, so that your cat feels comfortable in the exact room you have chosen, because there is no one who knows him better than you.
Catty Hotels is revolutionising the world of cat hotels in Bangkok. The little felines will be better cared for than ever before, while you're away on your trip. Because no one knows the importance of looking after your best four-legged friend as well as you do.